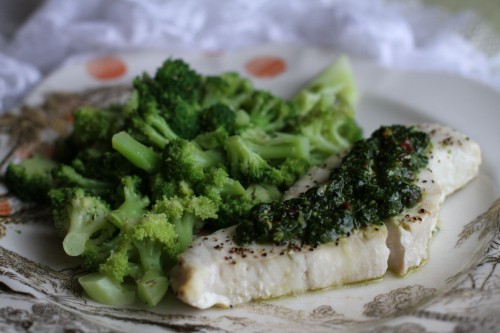 A few weeks ago, I attended a launch party for a new app called Cooking Planit where they demonstrated how technology could guide you through the kitchen.  The concept seemed great… For other people.  You know, because I'm a pen/paper/Evernote type of gal.  I recipe scheme and mix and, when I'm not, I love picking a good cookbook off the shelf, folding open the pages, and inevitably smearing ingredients on said good cookbook pages.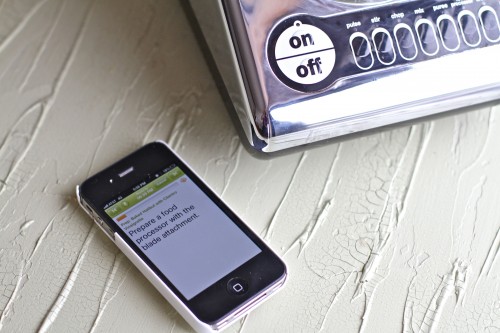 But this week has been different.  I'm coming off of a weekend move, a week of travel, a weekend of Austin City Limits, and have only a few days before hop on a plane again.  So as much as I love paper and spilling on paper, I don't have much time for it right now.  Sorry paper.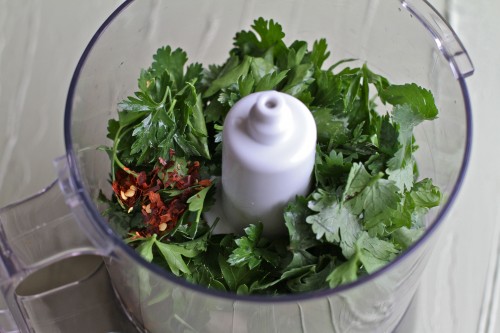 But what I did have time for today, was thawing a hunk of halibut before heading to work.  And then in between tasks at my desk, firing up the Cooking Planit app and searching for halibut.  And finding a recipe that would only require a mad dash from the produce department to the self-checkout line at Whole Foods.  And then, mindlessly making dinner with plenty of time for cleanup before the timer buzzed.
Cooking Planit's Baked Halibut with Cilantro Vinaigrette was a delish spin on fish that I'd definitely make again.  Knowing that I'm weird about things tasting oily, I added only two tablespoons of olive oil and couldn't have been happier with the consistency.  The cilantro and parsley gave this meal a solid dose of vibrantly fresh flavor.  And, well, red pepper flakes always secure a win in my book.
As far as the app goes, it couldn't have been easier.  There was no losing your place and having to skim through the recipe only to find that you missed a step.  And even more importantly, each step was straight forward and simply put.  Cooking Planit will certainly be a tool of choice when I'm just not in the mood for paper.  And I have a feeling this app could also teach me a thing or two about cooking multiple dishes for a large dinner party.