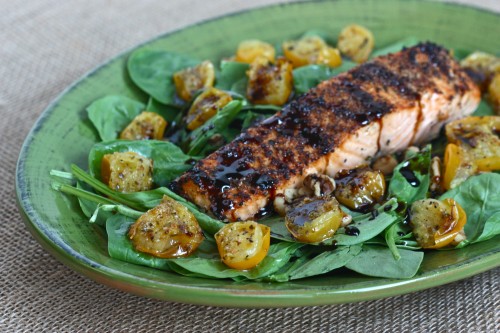 My super simple broil-everything-and-call-it-a-night-dinner turned out much fancier than one could have ever anticipated.  I prepped the salmon and sunburst tomatoes the same by spraying lightly with olive oil and sprinkling with seasoning.  And while they were busy broiling on high, I got to work on something new.
Balsamic reduction, anyone?  I suppose that's where the fancy came into play.  But really it required much too little effort to be considered fancy in any way, shape, or form.  I brought 1/2 cup of balsamic vinegar, 1 tablespoon of sugar and 1/2 tablespoon of ponzu sauce to a boil and let simmer over low heat for 20 minutes.  Little to no stirring was required.  I was shocked.
I placed the salmon, tomatoes, and walnuts on a big bed of baby spinach and generously drizzled the room temperature balsamic reduction over everything.  If I had guests over for dinner, I assure you they would have been impressed!