Ohhh what I wouldn't do for a lox bagel!  Love.  Well love/hate.  I love the stuff so much that I can't stand to see a crumb wasted, so I eat it all up to the point of miserable fullness.  But since there's no room for miserable fullness over the next five weeks, I'll be spending this time coming up with solutions.  Lox bagel-esque solutions.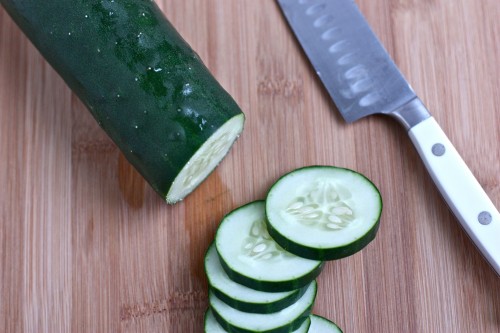 Sliced Cucumbers = Nature's Chip Bagel Chip
If I had thought this whole thing through, I would have purchased some red onions and capers at the market.  But I didn't.  So I merely sliced up some cukes, slathered with Tofutti "cream cheese", and topped with slices of smoked salmon.  De-lish!
These lox cukes were a super fast weekday lunch that could also be a super fun weekend breakfast.  A feel good, super fun weekend breakfast at that!
P.S.  I snuck two workouts in today, which could be responsible for the overuse of exclamation points in this post!