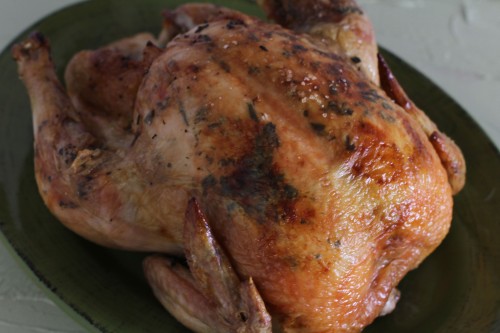 I know what boys like.  I know what guys want.  Roasted chicken.  Seriously, the boys loved this roasted chicken.
My roommate and I invited a slew of friends over to celebrate the birthdays of Billy, Tyler Dean, and Molly.  And when we thought about what we'd make, a 'Merican family dinner came to mind.  I made a roasted chicken (using Jenna's recipe) and chocolate cake.  Kara made parmesan mashed red potatoes and soy glazed brussels sprouts.  Perhaps I have a different level of trust when it comes to Jenna's recipes because she went to culinary school, but I've had such huge successes with her recipes that I have a hard time veering from her site for the basics.
So back to the dinner.  Who knew roasted chicken would be such an easy crowd pleaser.  An easy, crispy, juicy, flavorful crowd pleaser.  One of the boys even said this was one of the best meals he's had in Austin…  Austin!