Would you consider someone to have a baking problem if they ninja'd their way out of going out on a Friday night so they could dream up recipes and head to the market first thing on a Saturday morning?  My 22-year old self would cringe at the thought.  My 29-year old self has mixed feelings.
I called my mom when I left the house this morning, knowing she'd be the only person awake that I could share my grand ideas with.  So excited, I asked "turnip and chive pancakes, mom, what do you think?".  Little did I know that she was scarred from a childhood of thinking turnips were potatoes in stew and she did not share my excitement.  Bummer.
Only some of my excitement was lost as I wandered through a very empty Central Market.  I tossed turnips and chives in my basket and, reluctantly, tossed a white baking potato in there as well.  As much as I despise white potatoes, I knew they were necessary today.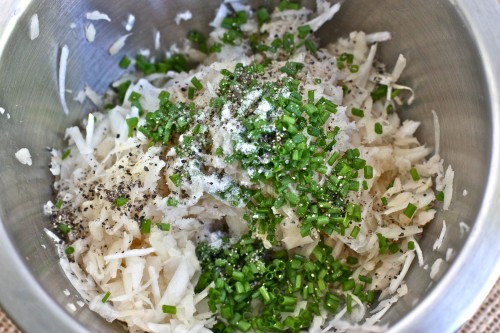 FoodFash Potato, Turnip & Chive Pancakes (yields 3, 1/4 cup pancakes)
1 large white baking potato, shredded
1 turnip, shredded
2 eggs
2 tablespoons of fresh chopped chives
1/2 teaspoon salt
1/4 teaspoon pepper
3 tablespoons grapeseed oil
After shredding the potato and turnip, squeeze moisture out of them with your hands and then wring with a paper town to remove excess moisture.  In a small bowl, mix the potato and turnip with eggs, chives, salt, and pepper.  In a heavy bottomed pan, heat grapeseed oil over high heat.  Test oil hotness by tossing in a small piece of potato to see if it sizzles.  When the oil is hot enough, use a 1/4 cup measure to pour three pancakes into the pan.  Gently flatten the pancakes with a spatula.  Watch closely and when the edges are browned, flip pancakes.  When the other side is browned and crispy, remove pancakes from pan and place on paper towels to remove excess grease.  Serve right away.
So turnips vs. potatoes…  They are so darn similar.  I ate a raw shred of each before I started mixing and yeah, I could tell the difference, but not by much.  Turnips have a crispness to them, like they contain more water, whereas potatoes are as starchy as starch could be.  Turnips have a bit of bite, so I understand my mom's hesitation for them making up the entire pancake, but they also have a flavor to them unlike potatoes.
Cooked and seasoned, there was no telling which was which in the pancake.  Perhaps it's because chives are amazeballs and transformed two very boring veggies into something so delish.  For the record, potato turnip and chive pancakes are worthy of serving to your favorite breakfast guest.
And as far as nutrition is concerned, turnips have about 60% less calories and carbs than a potato and contain much more calcium.  So verdict?  Mixing turnips and potatoes is the perfect way to add a little flavor and reduce a lot of calories in a traditional potato dish.  I'm thinking this could work with mashed and scalloped dishes too.  What do you think?