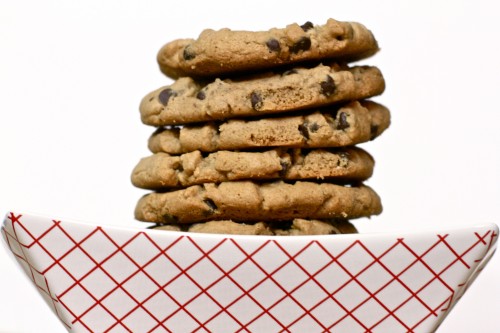 You know those moments when you know why your best friend is your best friend?  Like when you're having a rotten day and things instantly get brighter because you get an email with a subject line "these look yummy" and inside is a recipe that's so up your alley you can hardly stand it.  And then the body of the email begins with something like "and non-dairy for you!" and your smile gets grander.  And up next you read "and they look care package-able…" and you laugh so very inappropriately loud at your desk.  And by the time you recover from the slight embarrassment of looking like a crazy person, your day has gone from rotten to perfect.  Yup, that's a best friend story right there.
So Ariel's care package-able email was the sole inspiration for the first Postal Cookies post.  But since she was out of town while I had super baking motivation, I decided to wait on her cookie and mail out a completely different cookie to other friends across the nation (seriously).  And now that I'm on day 4 of cleansing, baking motivation turned into its most severe form of baking craving.  Needless to say, the cleanse was a bust (let's go with I had a very successful 3-day cleanse).  Mostly because in order to modify this recipe, I had to sample the dough to see what was going on.  Really.
FoodFash Vegan Peanut Butter & Both Types of Chocolate Cookies (yields 12 cookies)
1-1/2 cups white chocolate peanut butter (or regular natural peanut butter)
1/4 cup maple syrup
1/2 teaspoon vanilla
1/2 cup brown rice flour
1/2 cup non-dairy chocolate chips
Preheat oven to 350 degrees.  In a large mixing bowl, blend peanut butter, maple syrup, and vanilla.  Add flour and beat until thoroughly mixed.  Then fold in chocolate chips.  Roll 2″ diameter balls with your hands and place on a parchment paper lined cookie sheet.  Flatten balls with a fork and bake for 12 minutes.  Remove cookies from oven and let cool for 20-30 minutes before handling.  The cookies are very mushy and fragile when they are warm, but harden when cooled.
And then I had to sample the cookie before I packaged everything up.  You see, I didn't wait the 20ish minutes prior to handling and the cookie I messed with completely fell apart.  But by the time I did a few dishes and satisfied my Instagram addiction, the cookies turned into cookies and I was curious.  Legitimate sample, right?
I'm not 100% sold on the way brown rice flour feels between my teeth (see crazy person reference above), so I'd be curious to try these cookies with almond meal or coconut flour.  But flavor and moistness are totally good and worth sending to your best friend, especially if she appreciates a sweet treat on the healthier side!