"Could this place be any more you?", Hansell said as we sat down at Elizabeth Street Cafe to order his first meal in Austin, ever.  "Even the waitress' outfits are you".  Flattered, I encouraged my old Tampa roommate to look at the menu, assuring him that the food was every bit as good as the atmosphere.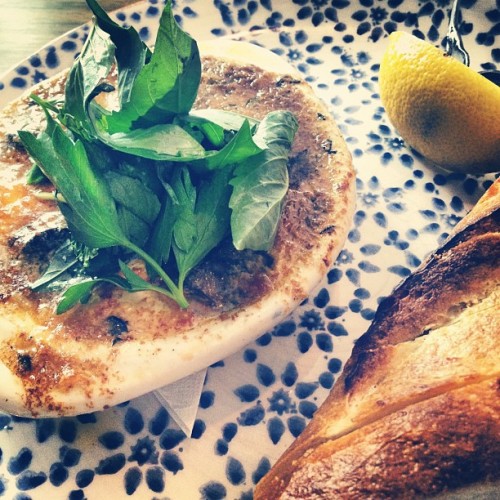 I didn't give him much of an option as far as apps were concerned, we were going to order escargot.  Not only is their broiled escargot flawless, but the first time I ever tasted escargot was with Hansell and Lex at a crazy little place in Tampa called Front Porch Grill.  It was a sentimental order backed up by extreme goodness.  Hello, Thai basil curry butter, how does it feel to be perfect?
Hansell ordered the waitress's suggestion of Singapore noodles.  There was a solid flow of yummy noises coming from his direction, so I made the safe assumption that he was happy with his selection.  I reached over with my chopsticks for one of my infamous bites and decided to see for myself what it was all about.  Elizabeth Street is spot on in every flavor department – wonderful balances of strong flavors with subtle flavor highlights.  Everything is bold without being the slightest bit heavy.
I ordered the poached shrimp and hard boiled egg banh mi and coated every inch of freshness with sriracha and the occasional dollop of hoisin.  This sandwich was so fresh and totally up my alley.  You could think of it as the Vietnamese version of a chicken salad sam – cool, filling and fulfilling.
Lastly, we ordered one of each of the daily macaron flavors, chocolate curry and peach cinnamon.  I'm not the hugest macaron fan, but there just so darn cute I can never resist.  Both of us agreed that the peach cinnamon was where it was at, which made think a homemade peach pie is in The Hanz's Austin future.
We're off to adventure!  Have a happy (early) weekend!!