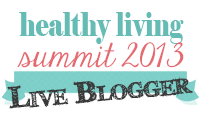 Hello from the Healthy Living Summit in Minneapolis!  Shortly, I'll be in the company of 150 people from around the country who are all interested in food, fitness, and blogging.  Whether your already a blogger, want to become a blogger, or just like reading blogs – it's a super fun weekend for all involved.  And even if you couldn't make it this year, a bunch of us will be live blogging the sessions so anyone interested can follow along.
This year I'll be live blogging the "Lights, Camera, Action" session that will be taking place on September 14th at 11:15 AM.
As bloggers, one of the biggest challenges we face is how to stand out, distinguish ourselves, and connect with readers on a variety of different platforms. Creating video content is the closest you can get to being live and in-person with your readers—It is the way to show your readers who you are and what you are all about. Getting started can seem intimidating with questions ranging from "What camera do I use?" to "What do I even vlog about?". This session will lead you through getting to know your camera, using editing software, planning and creating content, finding your voice, and examples of common mistakes as well as tips for making your video the best it can be. You will leave feeling confident, prepared, and excited to tackle this new challenge, and take your blog to the next level!
As someone who loves being behind the camera and is getting used to the idea of being in front of the camera, I'm super excited to sit in on and blog about this session!
Woohoo!  We're live!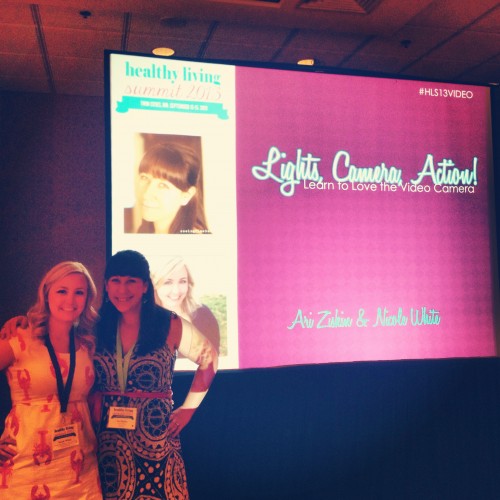 – Take your blog to the next level with video!
– What's holding you back from creating videos?  Experience, nerves, equipment, ability to edit, quality.
– Everyone is nervous the first time, but if you talk about something that compliments your blog and your experience it makes it a lot easier.
– Are you supposed to script a video?  Create an outline as a guide, but don't over rehearse.  Over-rehearsing can take away personality.
– Wardrobe.  Wear something that makes you feel comfortable.  If your'e comfortable, you'll be less nervous in front of the camera.
– Have a difficult time writing a review blog?  Try talking about it.  Brands really enjoy the authenticity of a video review!
– Don't have time to make a video?  Try having a schedule.  Once a month can be an attainable schedule for creating/posting videos.
– Keep your videos short.  Two to three minutes is an ideal time to keep a viewer's attention.
– Think equipment is too expensive?  You can use your iPhone!  Or a handheld camera, video camera, or even your DSLR.
– Tripods are super important.  A shaky video can be distracting.
– Sound and lighting.  Check your audio.  Think about a microphone (they're cheap!).  It's also important that your lighting isn't too dark, too harsh.  You want to be visible!
– You gotta start somewhere!  Your first video will never be your best video, but you'll never get better unless you start somewhere.
– Mistakes happen.  Take a breath and keep going.
– iMovie is a simple tool that helps you create a professional look.  It'll also help you keep things consistent.  Oh and it's free if you already own a Mac!  Check YouTube for tutorials.
– Advanced editing programs: Final Cut and Adobe Premier.
– Personality stands out.  Content is important.  Quality makes a difference.
– Common mistakes: going off topic, rambling, filler words, lack of editing, copyright infringement, noise distractions, dead camera battery, not enough space on memory card.
– Great vlog examples: Run Eat Repeat, Bex Life, Kitchy Kitchen
– Ready to get started??  Make a list of 5 potential video topics for your blog.  Sign up for a YouTube/Vimeo account.
– Want subscribers to your YouTube channel?  Ask!  If you remind a viewer to subscribe, you have a better chance of getting more subscribers.
– Video challenge!  Check out Ari's blog and Nicole's blog for details.  Word on the street is there's a pretty cool prize for the winner!
Check out the Drink & Dish YouTube Channel!