One of the Healthy Living Summit swag bag items I had the pleasure of stuffing was the package of mini fillo shells.   From the second I unpacked the first box, I couldn't wait to use them.  And as I tossed a box in each bag I contemplated the perfect fillo filling.
Well the perfect fillo filling other than the obvious nuts and honey combo that's responsible for one of my all time fav desserts, baklava.  Once visions of sweetness passed, the first savory ingredient that came to mind was spinach.
I went to the market with every intention of finally recreating Emily of Daily Garnish's spinach and artichoke dip, but for reasons having nothing to do with her recipe (like Rollin' Oats doesn't have canned artichokes?) my plan morphed into something different.
FoodFash Fillo Cups
12 mini fillo shells
1/2 bag of frozen, chopped spinach
1/2 zucchini, shredded
1-1/2 tablespoons minced garlic
2/3 cup dairy free cheddar
1 egg, beaten
salt to taste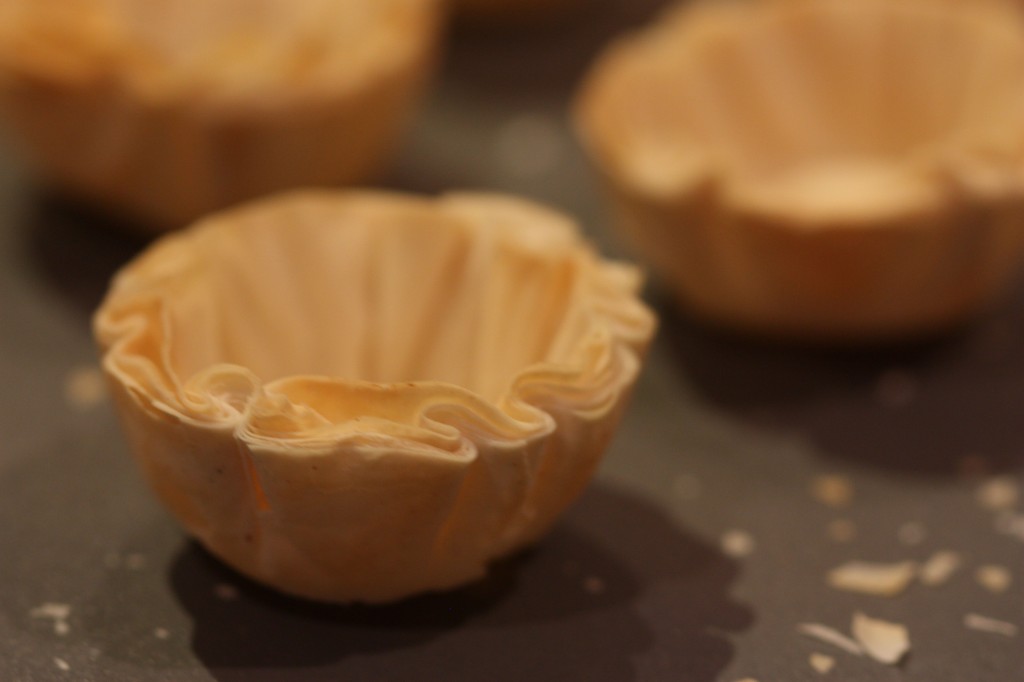 Preheat oven to 400 degrees.  Thaw frozen spinach in the microwave for about one minute (do not add water).  Add shredded zucchini, garlic, "cheese" and salt to the bowl of spinach and stir.  In a small bowl, beat the egg and then mix with the bowl of veggies.  Fill each fillo cup as full as you can with veggies, place on a cookie sheet, and bake for 20 minutes or until the egg is fully cooked.  Let them cool for a few minutes before serving.
There's nothing like having a crunchy, gooey, bite sized, party-like, veggie filled dinner on a Tuesday – yum, yum, yum!!