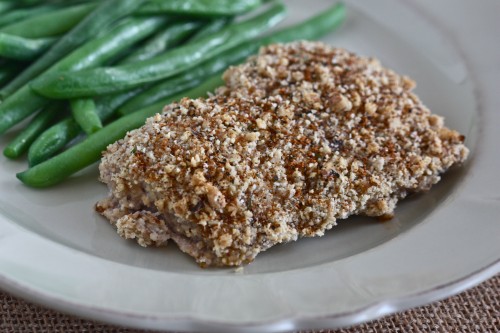 I'm fairly certain that nut-crusted fish is one of those dishes that's supposed to be difficult and unhealthy.  But if blogging has taught me anything, it's that difficult and unhealthy are two things I am fully capable of transforming into easy and healthy.  And over time, I've found that the easier I make a recipe, whether it be by taking out ingredients or reducing steps, the healthier it becomes.
Baking over frying and almond meal over flour were the two major changes I made to what I can only assume a restaurant recipe would be.  Baking the fish turns cooking time from active to inactive, drastically reduces clean-up, and eliminates the need for excess oil.  Almond meal adds protein, fiber, and several vitamins, whereas regular flour just adds… white?  Ohhh just kidding, regular flour, if enriched, adds a teeny amount of vitamins.
FoodFash Walnut Crusted Halibut (yields 2 servings)
2 halibut fillets
1/2 cup California Walnuts, chopped
1/2 cup almond meal
1 egg
your favorite fish seasoning to taste
Place oven rack on the 2nd highest level and preheat to 400 degrees.  Mix chopped nuts and almond meal in a shallow bowl.  Beat egg in a separate shallow bowl.  Remove as much moisture from the fish as you can with a paper towel.  Dip one fish fillet into the beaten egg until well coated.  Gently place the egg coated fish in the nut mixture.  Flip the fish to coat the other side and gently press nut mixture into the fish to ensure that it is evenly coated.  Repeat.  Spray a foil lined cookie sheet with olive oil spray.  Place nut crusted fish fillets on the cookie sheet and sprinkle with seasoning.  Bake for 15 minutes or until fish is completely cooked and nuts are browned.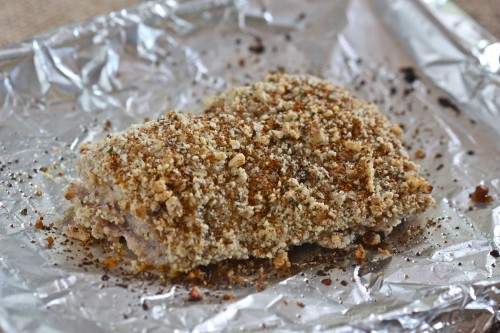 Adding nuts to fish makes for a protein-a-licious dinner.  And since nuts are inherently crunchy, the baked nut crust gives the illusion that you're eating something breaded and fried.  An illusion that would also hold true with pecans, almonds, and coconut or another fish/chicken.