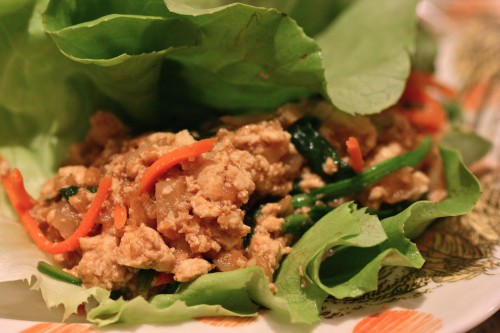 I must have tofu-ed myself out for a bit because it's been a while!  I browsed through VegTimes for some inspiration and stumbled upon a recipe for spicy tofu lettuce wraps.  Yum.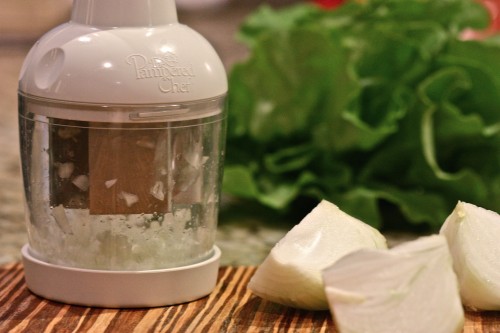 I stared at the onion for a few minutes, picturing how badly my eyes were going to burn.  I thought of the Pampered Chef chopper buried somewhere in cabinet land and my eyes began to thank me.  I knew this gadget worked well with onions, but it also saved me some time with the ginger and lemongrass as well.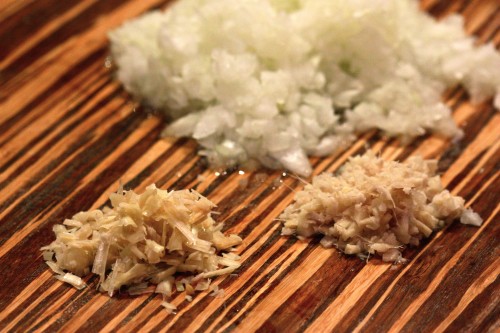 I smooshed the pressed tofu between my fingers like nobody's business.
And added one handful of shredded carrots and two handfuls of baby spinach after the tofu was cooking and before adding any seasoning.
It's amazing how just a tad bit of ginger and lemongrass can transform a dish into something wonderful.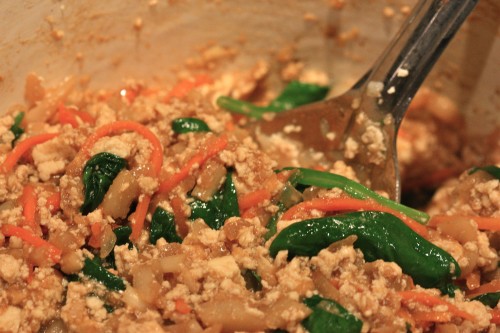 In addition to the above modifications, I also used Bragg's Liquid Aminos in place of soy sauce and opted for two tablespoons of Sriracha.
I was super satisfied with this recipe and think that it will hold up well for leftovers tomorrow.  The water chestnuts and the carrots added a predictably awesome crunch.  The tofu soaked up flavors from each and every ingredient.  And, in my opinion, this would be the perfect dish to serve someone who is wary of tofu.  Thanks VegTimes!