So Jenny, who will now be referred to as Jebby Swizz, and I baked some ridonkulous strawberry pancakes on Friday night after a marathon happy hour.  They were so good that I couldn't wait to make them into freezable muffins for work-day breakfast.
FoodFash Strawberry Pancake Muffins (yields 8 muffins)
3/4 cup sprouted wheat pancake mix (or regular pancake mix)
1/2 cup water
2 eggs
1/2 teaspoon vanilla
1/2 teaspoon cinnamon
5 large strawberries, diced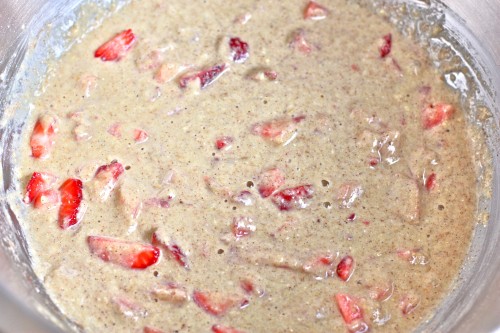 Preheat oven to 375 degrees.  Mix the first five ingredients in a bowl and then fold the strawberries into the batter.  Scoop 1/4 cup of batter and pour into each muffin cup.  Bake for 15 to 20 minutes.
Our post happy hour cakes were slathered in butter, which brought them to a whole new level of deliciousness.  But sans butter, these pancake muffins are a perfectly guiltless weekday treat.  The strawberry adds moisture and a subtle sweetness to the hearty sprouted wheat base.  Yu-um!