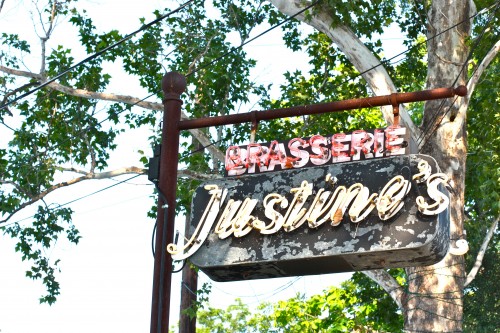 Since my mom has been in town from sweet home Safety Harbor, we've eaten at restaurants a plenty.  We hit up some downtown hip spots and a seedy Mexican dive, but I think we both would agree our favorite place thus far has been Justine's Brasserie on the East side.
I wish I had more pictures reflecting how cozy, quaint, and Austin-esque the vibe was.  The furniture was creaky and cool.  There was a gynorm record collection behind the bar.  The light fixtures were worthy of snatching and placing in your favorite shabby chic room.  The overall ambiance at Justine's was that just-rolled-out-of-bed-looking-that-hot kind of look.  I was a fan before the food even arrived.
I was an even bigger fan after gorging myself on a half a loaf of crusty, chewy bread.  If I had been with someone other than my current company, they would have given me a look of disgust.  Fortunately (unfortunately?) moms love you too much to pass judgement on strange behavior.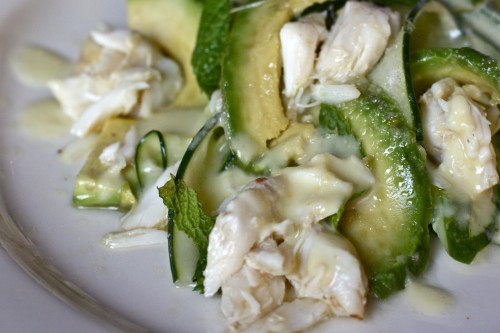 She ordered the soup du jour, which was a chilled potato soup that was loaded with fresh mint and perfect for a blazing hot day, and the crab salad (which had a way more French name on the menu), that was very fresh as well.  Avocados and cucumbers make great friends.  Noted.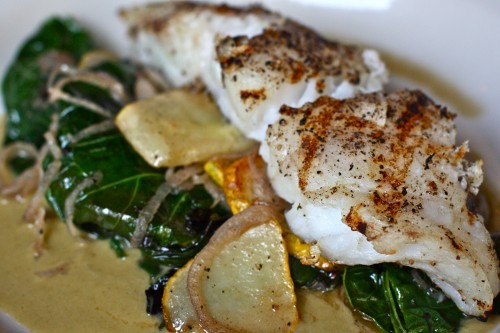 I ordered the catch of the day which was a honkin' fillet of grouper.  The fish was dusted with the perfect amount of seasoning, but most importantly, was super flaky and moist.  And as good as the fish was, the greens were even better.  The mustard-y sauce and tiny strings of onion were to die for.
Justine's was just perfect for a weekday dinner, but I'm looking forward to heading back on a Friday night with friends for dinner con cocktails!