After another yum-tastic Summit breakfast, my roommate from this year and last year (Emily), my roommate from last year (Krista), Mindy, and I, all decided to head back to Boston and spend the day in the city before heading to the airport.  Somehow amazing weather swept through the city last night and was still in full effect today.  I'm telling you, it was the best walking weather we could have ever hoped for.
Emily went to college in Boston and still lives in Massachusetts, so we left it up to her to lead the way.  She suggested lunch at Quincy Market since we were all hungry for a solid lunch before our upcoming travel agendas.  The walk to lunch lended itself to quite the picturesque path.
I trailed behind the group, taking in the oldness of Boston.
Growing up and Florida, and Texas being the only other place I have ever lived, historic downtown architecture is something that signifies vacation for me.  I totally look forward to it!
The picture of the older gentleman playing an unidentifiable instrument with his pup was my favorite of the day.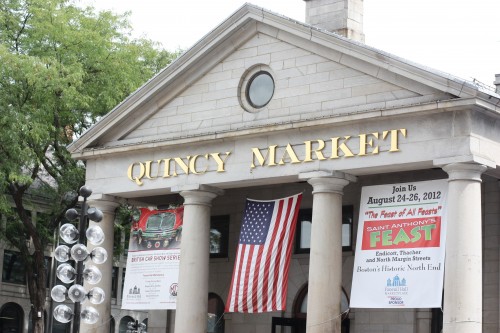 When we arrived at Quincy Market, we quickly realized it was the perfect lunch spot as we were all craving something completely different.  We parted ways to browse and made a plan to meet up on the steps so we could eat together in the sunshine.
Emily had Greek, Krista had Italian, Mindy had Thai, and I…
I had Boston!  There were three places in the market that served lobster rolls, so I checked each of them out and settled on the place whose roll looked the most lobster-rich.  If only this hot dog bun was a warm crusty sourdough roll, I would have been in heaven.  I ate half the sandwich as-is and picked the lobster out of the second half in order to save room for pastry.
Mindy hadn't been to the North End yet and wanted to sample Mike's Pastry before leaving town.  After posting about Mike's Pastry, my mom let me know that Maria's was her favorite and suggested getting the sfogliatelli.  We went to Mike's first so Mindy could see what all the rage was about and then headed to Maria's to order my mom's fav.  Mike's definitely had a better selection, but the quaintness of Maria's was undeniable.  We munched on our sweetness as we headed back to the hotel, gave hugs, and parted ways.
I'm so happy to report that my second Healthy Living Summit was even better than the first!  I'm going to miss everyone SOOO much but know that it will be time for HLS13 in the blink of an eye!