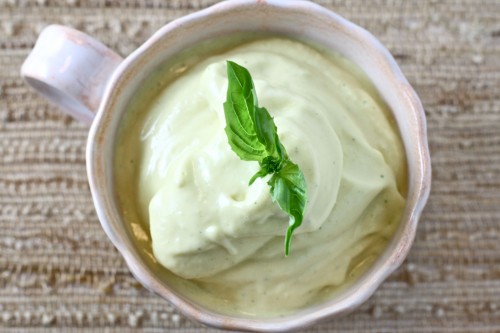 Ever since the Chobani dinner during SXSW, I've had mango basil ice cream on my mind.  Like so on my mind that I looked forward to any conversation turning to ice cream/summer/food so I could casually mention my desire to experiment.  And even though this is one of the quickest, most simple desserts ever – it took a holiday weekend to getter done.
FoodFash Mango Basil Ice Cream (adapted from this recipe)
1 cup half and half
1/3 cup sweetened condensed milk
1 tablespoon fresh lemon juice
1-1/2 tablespoons granulated sugar (I used beet sugar)
16 ounces frozen mangos
5 to 7 basil leaves, chopped
Add all of the ingredients to a Blendtec blender in the order listed above, press the ice cream button, and serve!
I packed the ice cream into a jar and headed down the street for a final Memorial Day weekend meal.  I stashed the jar in the freezer, unsure of how I felt about the mango (does mango ever make your mouth feel funny?).  After dinner, I walked to the kitchen for a final test bite to make sure it was serve-able and, before I knew what was what, I heard the Dickster say "I already snuck a few bites and it was reaaaallllll good, KV!".