I texted Molly mid-way through the day asking if she was up for something social after work.  She responded immediately saying "you read my mind!" and forwarded a happy hour invite.  An evening of sampling Say laV eats and Hotel Vegas drinks?  Sure thing.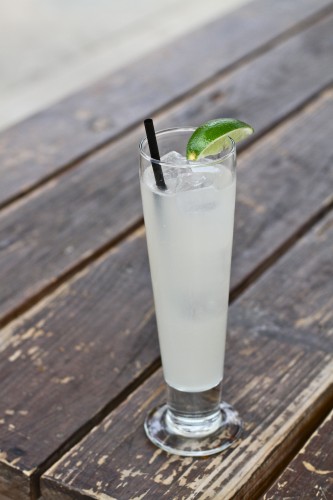 As soon as we arrived, we headed straight to the bar to pick up icy cocktails in an honest attempt to brave the 100 degree heat that was waiting for us out back.  Moscow mules, Pimm's cups, and sticky bangs.  It was happening.
We parked ourselves at a picnic table and the food was immediate.  First up was fig topped pate and melon/salami/basil skewers.  Both of these hit all sorts of spots at our table.  The herb/meat/melon combo is certainly a thing right now and I love it.  And the pate, which is rarely my thing, became my thing when it was paired up so perfectly with fig.
Lamb burgers with a hearty slice of red onion and a dollop of tzatziki… brought me back to the days of living near good Greek food.  I ate two.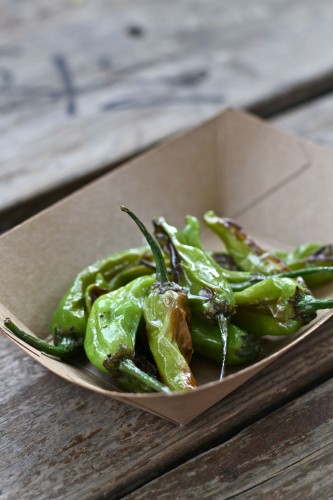 Pulled pork tacos and blistered shishito peppers.  I tell ya, this night was one for the books!
And to satisfy any sweet teeth in the crowd, they served sweet potato donut holes.  These were Molly's favorite.  She ate four two.  Maybe two and a half?  Regardless, she deserved it.  Thanks Miss Molly for another unexpectedly wonderful night on the town!