Today was wonderful in a way that, years ago, I would have never known to appreciate.  I woke up bright and early and walked to work through the tree lined streets of my new neighborhood.  I made the most of my lunch break by picking up dinner groceries and boat loads of wine at the market.  And then I rushed home after work, threw on a house dress, put on some tunes, and got to work in the kitchen.  Everything felt in place.
I informed the virtual world of what I was up to and lured  my friend Justin with the promise of wine when he arrived.  He provided company while I chopped, I turned over food while we chatted.  Shrimp steamed with Old Bay, cubed watermelon, cubed feta, and chopped basil.  It was light, fresh, and flavorful – and I wish I had made lots more.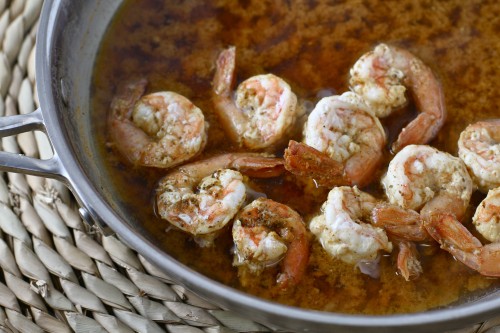 Max, my new roommate, returned from work shortly after.  He polished off the rest of my creation as he muttered, "I love living here.".  Our house has quickly turned into an impromptu gathering spot for our friend circle and I couldn't think of a way I'd rather it be.