After a day full of completely Austin activities (Greenbelt, Tacodeli, Barton Springs), my pal Billy suggested we all head north for dinner.  Drink Well was the first place he suggested and, just as he was about to describe how great it was, I said "done.".  Drink Well had been on my list since one of their bartenders won a bartending competition that I attended last year.  I felt embarrassed that a year had passed.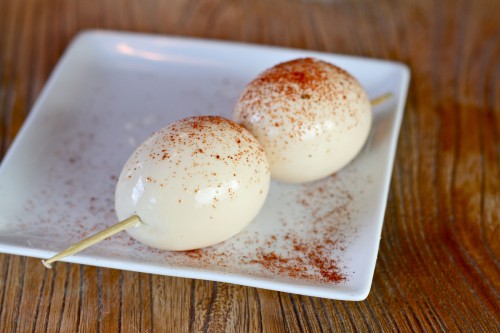 Our party of four arrived sometime around 7:30, carpooling from downtown.  It was a 6.2 mile trek that most of us weren't used to, after all.  We found an open spot at a community table and quickly befriended our neighbors.  Our new friends watched our belongings while we hopped up to the bar to order cocktails and dinnerness.
I started with the Pisco Inferno, pickled eggs, and beet salad.  The cocktail, tasting both light and complex, arrived in a tiki cup, which felt appropriately like vacation.  I discovered that if eggs are on a menu, I'll order them (even if my dinnermates subtly tilt their heads with a look of confused disapproval).  And the beet salad was a wonderful starter salad, I'd order it again.  But, next time, I'd order it in addition to a carby main course.  Upon finishing this salad, I had order envy to my left and to my right.
Billy and Molly went with the Ratatouille on Rye, which arrived with good lookin' salad between each half.
And Anna, whose order I envied the most, had the sweet potato gnocci.  I stole a bite.  This will be what I order next time.
After another cocktail, absinthe this time around, we decided a cheese plate and homemade chips were necessary.  We snacked, bopped around to the 80s jams that were gladly filling the space, and discussed how much we loved Drink Well and how we would be coming back again.  Soon.