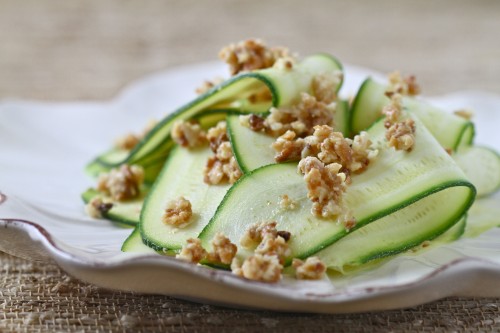 I'm years past the point of full-price Anthro shopping.  Unless I'm in the market for a Volcano candle, I B-line it to the sale rack.  I sift through too long skirts and too warm coats, but occasionally find the find of all finds.  Like the time I stumbled upon a $630 pair of Joie boots for $139 or the time I found the most perfectly fitting pair of shorts and bought them in every color.  Last weekend I found a different kind of a find.  A food blogger kind of find.  A slightly torn, heavily discounted Smitten Kitchen cookbook.
When I brought the book home, I flipped through it page by page.  And as I flipped each page and read each description aloud, my eyes grew wide and my voice… little kid excited.  So excited that a friend may have suggested I re-read all of these recipe descriptions in front of the camera so everyone else could be as entertained by me as he was.
I must have tabbed a gazillion recipes – there were so many that appealed to both my healthified side and my butter-baking side.  I saved the butter-baking kind for later and started with the Zucchini Ribbons with Almond Pesto.  The almond pesto was one of the most wonderfully flavored things that's ever come out of my kitchen.  Smoky almonds, tangy lemon, salty parm – serious goodness!  Topped with this pesto, I could eat zucchini ribbons for hours.  And I just might have done that.