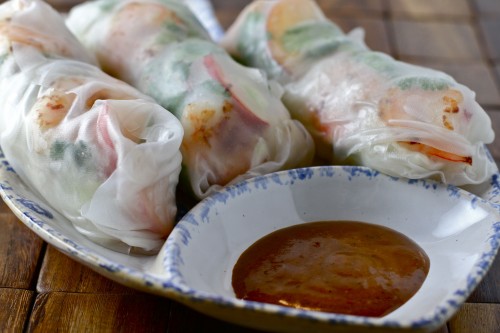 I had a free night tonight for the first time in… forever.  Seriously, forever.  It was such a foreign feeling that I didn't even know what to do with it.  Had I forgotten how to be a blogger?  A little.  But a little muse motivation from miss Emily got me back to it.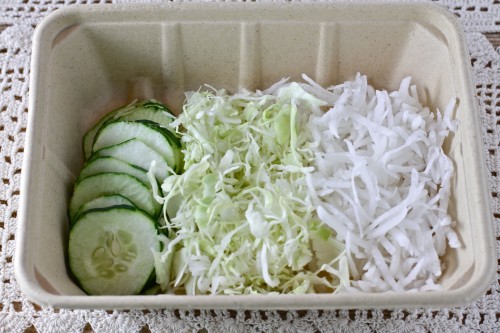 Shrimp, peaches, and some veggies – that was my summer roll mission.  I walked over to Whole Foods and soaked up the last of the day's heat.  It was sweaty.  This Florida girl enjoyed every minute of it, picked up all of the ingredients, and then enjoyed it again on the way home.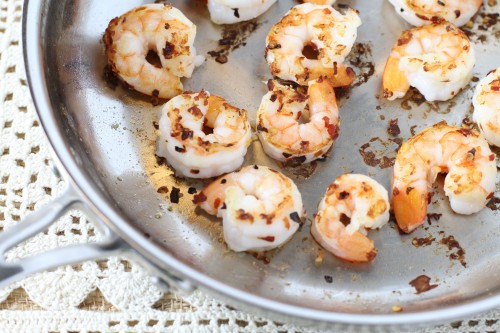 Because  summer rolls aren't as much of a recipe as they are an assembly of goods, below is a list of unquantified ingredients and steps.
Ingredients:
Shrimp sautéed with salt and red pepper flakes
Rice vermicelli noodles prepared per the directions on the package
Rice paper wrappers
Peaches
Cilantro
Already chopped veggies from a salad bar: cabbage, diakon, cukes
Peanut sauce
Assembly:
1. Fill a large frying pan with water and place over low heat.
2.  Soften two rice paper wrappers, one at a time, by placing in the hot water.
3.  Set softened wrappers on top of each other (staggered about an inch) on a flat surface.
4.  Place filling ingredients on the half of the wrappers closest to you.
5.  Fold the short end of the wrapper over the filling, pulling tightly, and roll.
6.  Tuck the sides in and continue to roll.
7.  Serve with peanut sauce.
Click here for the first ever (rough) FoodFash video demonstrating how to make summer rolls.
Firstly, already prepped salad bar veggies for summer rolls is where it's at.  They were totally cheap and totally convenient.  Secondly, shrimp, crunchy veggies, sweet fruit, spicy red pepper flakes, and salty peanut sauce are a whoa good combo.  Whoa good.