The inspiration behind my restaurant to-do post, Lenoir, has been on my mind every time I craved restaurant for quite some time.  There were problems though.  It's a pretty small, reservation-only space that has a fairly pricey pre fixe menu.  That rules out friends that are picky, on a budget, and are opposed to planning ahead.  I guarantee that most of anyone's friends fit in one, if not all three, of those categories.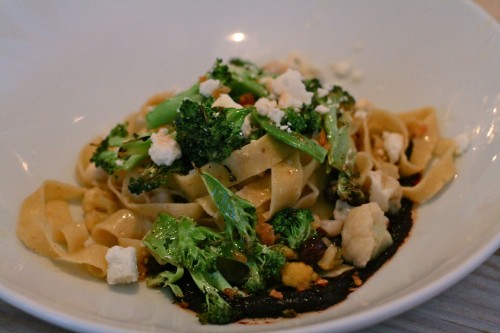 Luckily I have three very lovely friends that were ready to give it a go.  We coordinated our schedules and made reservations a couple weeks in advance.  We tried so very hard to vary our selections, but were all drawn to similar dishes in each category.
My selections from each of the categories:
Field – aleppo spaghetti / smoked ricotta salata / broccoli rabe / crisp garlic
Sea – drum crudo / avocado / loquat vinaigrette / honeysuckle gelee
Dream – bleu d'auvergne / walnut & pistachio 'baklava' / roasted sweet potato / smoked honey
I was so thankful when the house-made spaghetti was set in front of me.  My appetite, besides a brief desire to cleanse, has been insatiable as of late.  But this blip of flavorful and delicate noodle was instantly satisfying and prepped my very hungry belly to appreciate the dishes to come.
The crudo was delicious, as expected.  All of the accompaniments added texture and flavor without compromising the freshness and lightness of the fish.  If I hadn't just eaten noodles, I could have eaten this for miles.
The dessert, in the most butchering of simple descriptions, was essentially baklava with blue cheese, sweet potatoes, and honey.  I liked this dish because I dig salty/crunchy/sweet.  I didn't like this dish because it didn't feel like dessert (it would have been just as fitting had it been categorized as an appetizer).  But I also did like this dish because it didn't feel like dessert.  Desserts, in my mind, are partly desserts because of the sickeningly sweet taste that leaves you feeling ehhh afterward.  The lack of ehhh smooshed any dessert envy before it formed.  Overall, I was pleased with my selection.
Lenoir is such an adorably tasty spot and I look forward returning for another lovely evening!