After 48 hours of pickling, the eggs and I were finally ready for Tasting Table's Pickled Egg Salad.
I pulled out the box grater and got to work shredding the eggs.  I would have never thought to shred eggs, but it worked really well with the eggs' new consistency (the pickling process makes the whites much firmer than normal).  I poured the shredded eggs in a medium sized bowl and added 1/4 cup mayo (Vegenaise), 1/2 teaspoon dijon mustard, and 1/4 teaspoon cayenne pepper.  I deviated from the recipe by halving the mayo and nixing the salt.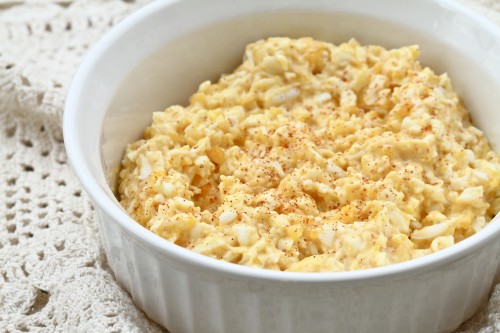 This egg salad was definitely a unique twist on a classic.  Between pickling and shredding the eggs, they took on the flavor and consistency of cheese or a cheese spread, which completely confused my tastebuds.  Did I like it?  Yeah, I think I did!  I ate three sandwiches over the course of a few days.  Would I make it again?  Probably not.  I'd like to dabble in pickling a bit more, but I love a classic egg salad too much to go through the extra effort of a 48-hour pickling.