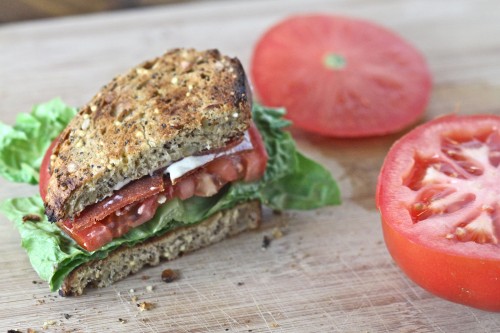 "Work it…  Work it!".  Words that almost came out of my mouth as I was shooting this sandwich.  This new found sort of like of tomatoes really works out well in the photo department.  Red on a sandwich is totally beautiful.
Vegan was the mission tonight.  It's hard to believe that this used to be the mission almost every night (I've been off and on veg for as long as I can remember).  But tonight, vegan and Nasoya's new Nayonaise, were the mission.  Oh and forcing down some tomatoes – that was part of the mission too!
This VLT consisted of Whole Foods Seeduction bread slathered with Nayonaise and topped with toasted Smart Bacon, romaine lettuce, and sliced beefsteak tomatoes.  I'll be honest, the meat-eater me would have been soooo much happier with legit bacon.  But bacon/faux bacon aside, this sandwich was all sorts of hearty goodness tied together perfectly with Nayonaise.  I'm looking forward to putting this stuff to work in some Easter potato salad this weekend!