[embedplusvideo height="309″ width="500″ standard="http://www.youtube.com/v/Lf2NP7Wtx-8?fs=1″ vars="ytid=Lf2NP7Wtx-8&width=500&height=309&start=&stop=&rs=w&hd=0&autoplay=0&react=1&chapters=&notes=" id="ep9932″ /]

I am officially off of work until the 18th and plan to soak up as much SXSW goodness as possible.  I started last night by picking up the INDMUSIC fellas from the airport and getting them badged, housed. and fed.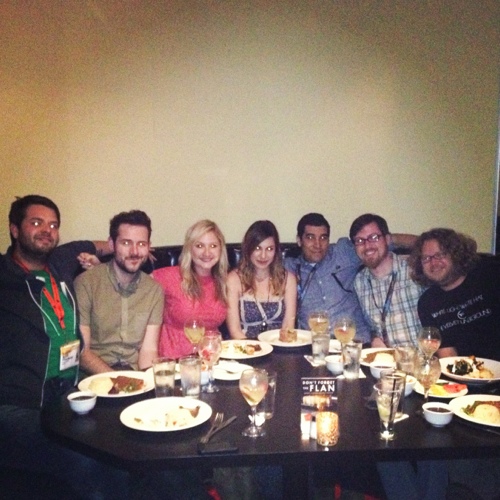 (INDMUSIC & Ariel/Kristin Dinner During SXSW12)
A little backstory…  Brandon and I met at a happy hour in LA during my first Ariel visit in 2009 – pre-FoodFash, pre-INDMUSIC.  We remained friends over the years since he's good buds with Ariel and I spent more time in LA than one could possibly imagine.  I started FoodFash and moved to Austin, Brandon started INDMUSIC and moved to Brooklyn, and SXSW12 and the virtual world kept us in contact.
(A Lockhart BBQ Trip During SXSW12)
Last night, I took the crew to South Congress Cafe where they soaked in the quaintness of the restaurant and Austin in general.  And then they updated me on all the wonderful things that INDMUSIC has had their hands on lately.  Like have you heard of the Harlem Shake?  They are not only responsible for monetizing any video playing the Harlem Shake song, but they created the technology that connects a band's YouTube page views with their ranking on sites such as Amazon, which subsequently affects Billboard rankings.  It's a pretty big deal and you can read more about it here!