I never, not for one moment, forget how wonderful Austin is and how lucky I am to be here.  But days like the Zilker Kite Festival, when there are no less than 20,000 people gathered under the sunshine and a clear blue sky…  Gosh, you can't help but wonder how a place like this even exists.
Matt, Snoop, and I flew our lady bug and Ninja Turtle kites, respectively, without a hitch.  We were even able to let out all the string, which I had never been able to accomplish before.  And Snoop, oh Snoop, was a sneaky little pup and stole a shrimp from our picnicking neighbors.  We all won a little bit during kite festival day!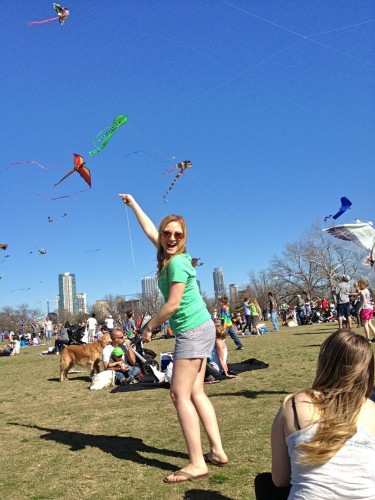 Who knew an almost 30 year old could have this much fun flying a kite!
If you have any Instagram/Twitter pictures from Sunday that you'd like to share, please feel free to post a link to the picture in the comments below.