Lately, it seems as though I'm awfully committed to being a tomato liker.  When I was home for Christmas, I ordered a caprese-esque dish from Food + Drink Lab.  Shortly after, I asked my roommate to make a caprese salad for New Year's Eve dinner.  Over the weekend, I ate tomato on a sandwich on purpose.  And tonight, a caprese salad was once again on my mind.
I picked up a vine of yellow tomatoes at the market, hoping that their lack of redness meant a less tomato-y flavor.
I made a super simple balsamic reduction by bringing 1/2 cup balsamic and 1 teaspoon sugar to a boil and whisking until thick.  And then I assembled: yellow tomatoes, fresh mozzarella, balsamic reduction, fresh basil.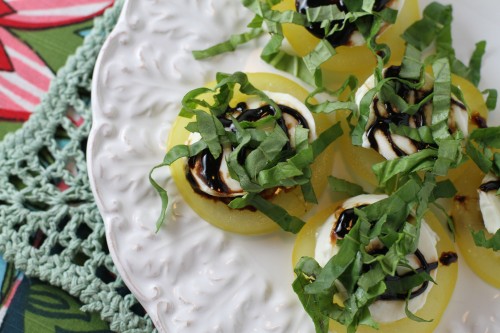 I was severely wrong about the yellow tomatoes being less tomato-y.  They were super seedy/slimy in the middle, but I forced myself to eat them anyway, hoping each tomato experience will bring me closer to that like feeling.  I ate a plate full and then brought the rest up the hill to the boys.  They mounged, they approved.