It's been a while since green smoothies have been a thing in my kitchen, but I'm happy to tell you that they've most definitely been a thing this week.  I forgot what it felt like to check almost a day's worth of veggies off your list in one meal.  It's total meal efficiency and we all know how much I dig efficiency.
When I was putting together smoothie ingredients, I started thinking about which tastes I enjoy most when I treat myself to a juice bar smoothie.  The first flavor that popped into my mind was ginger.  Looking back, I'm  not sure I've ever even ordered a smoothie sans ginger!
FoodFash Ginger Juice Smoothie (yields one dinner sized smoothie)
8 ounces of water
1/2 green apple, sliced
1/3 cucumber, sliced
1 inch of ginger, sliced
1 cup frozen spinach
1 cup frozen peaches
In a Blendtec (or Blendec equivalent), add water, apple, cucumber, and ginger and blend until completely smooth.  Add frozen spinach and frozen peaches (they act like ice) and then blend again.  Pour into a super huge glass and enjoy sippin' on ginger juice!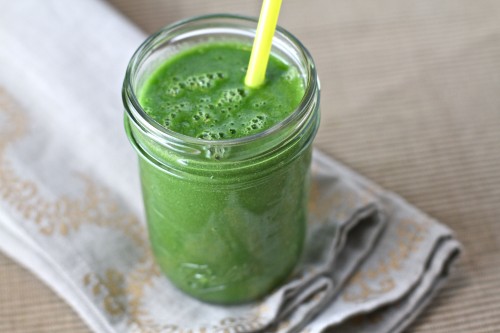 This smoothie tastes like cold, whippy ginger (according to this guy) and it's so incredibly slurpable.  If you're a ginger fan and feel like knocking out 4 to 5 servings of veggies, then this is surely the smoothie for you.