The second Val booked her flight, we started compiling a list of fun activities that would vary her vacation. I mentioned to her how much I enjoyed visiting a brewery during my Austin apartment hunting trip and could tell by her reaction that this would be at the top of our list. We came across the NXNW Brewery's beer and cheese class and signed ourselves up. And then it hit me… Perhaps a brew tour is the precursor to a move to ATX!
We arrived a bit early and waited at the bar with a few other "students". Shortly after, a server led us to a back room where Don and Mary Thompson were all set up to school us on beer and cheese. Don started us off with the definition of beer (which I can't for the life of me remember), gave us an overview of how beer is made, and then took us on a tour of their brewery equipment.
When we returned, Mary took over by introducing herself, the beer, and the cheeses.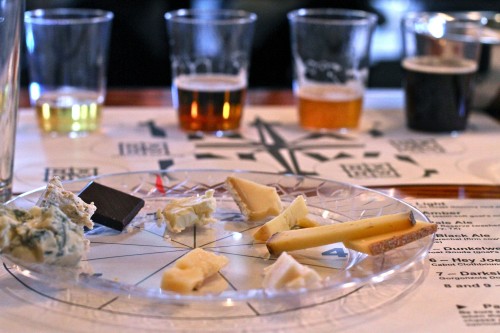 I knew just by looking which beers I would favor as I'm a light beer drinker when it comes to both color and body. And I was right, I totally dug the Light, Pale Ale, and Dunkelweizen. But what surprised me was that my favorite beer/cheese pairings were with the darkest beers on the menu! Black Ale with Le Marechal and Hey Joe Coffee Stout with Cabot Clothbound were the pairings on the list that I asterisked and starred. And what surprised me even more was how many of these cheeses picky, picky Val tried and liked!
Overall, this class is a wonderful way for an Austinite to change-up a Saturday afternoon!