There's something so wonderful about sabatoging your besties' diet resolutions continuing the season of giving.  But all joking aside, the feeling you get when you plop a package in the mail is a great one and I fully intend on having that feeling a bunch this year!  And now that I have these completely adorable tags (thank you Em!), sending packages is even more exciting.
Working my way through In The Sweet Kitchen, the Ultimate Soft & Chewy Chocolate Chunk Cookies caught my attention.  This recipe appeared to be both mailable and modifiable, both of which I was looking for.  I ditched the chocolate chunks and went straight for a big ol' bag of white chocolate chips and an even bigger bag of shelled pistachios.  And I thought perhaps if I showed a picture of all my hard shelling work, my postal cookie recipients would feel even more special.  (Emily, Elizabeth, Jessica, Krista – did it work?)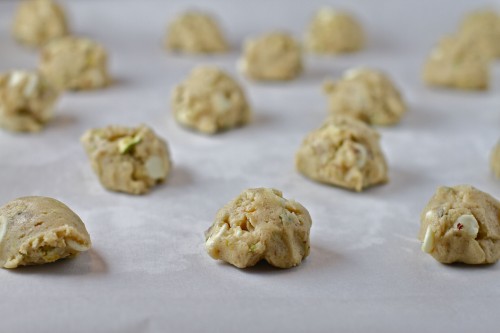 My roommate and I went to town on this dough.  If I had to pick one cookie dough to live off for the rest of my being, this would be it.  And, from what I was told, the actual cookies came out pretty delish as well.  Have I mentioned before that I'm a dough hound?
So back to the postal stuff…  Do you have any suggestions on mailable treats other than cookies??  I'm a bit bored with cookies and would love to hear about goods you've successfully sent to loved ones!