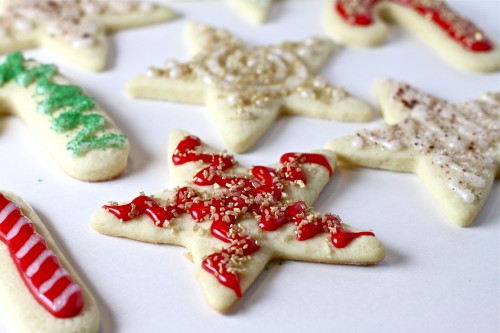 Can you believe for a moment that I'm 29 years old and tonight was the first non-family cookie baking party I've ever hosted or attended??  It seems a little ridiculous, I know.  What's even more crazy is that I wouldn't have even thought to have people over if Shelby hadn't made the suggestion a couple weekends ago at the Urban Farm Bike Tour.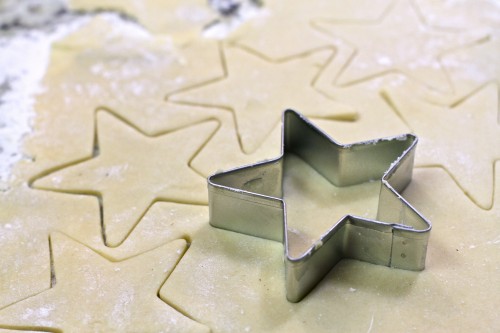 I asked the girls bring already-made dough so we could spend more time cookin' and less time mixin'.  And I prepped for their arrival by making this sugar cookie recipe (rated 4.5 stars with over 5,000 reviews!).  My thought was that we could chit-chat and decorate while all the other cookies were in the oven.  What I failed to read is that this particular cookie recipe yielded 5 dozen cookies.  Heads up, 5 dozen cookies is a heck of a lot of cookies to frost.  Like…  a seemingly impossible, slightly frustrating amount of cookies to frost.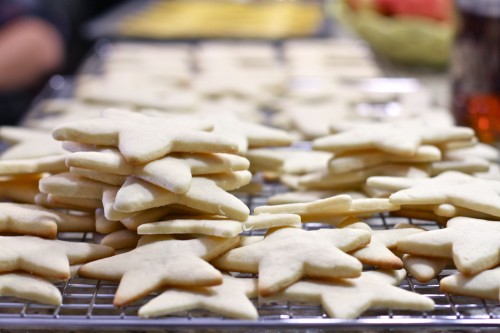 What I did do right was use Madagascar double strength vanilla in lieu of regular vanilla.  Even though this vanilla was much stronger than what was called for, I used the same amount because I wanted these cookies to be something more than just plain old sugar cookies.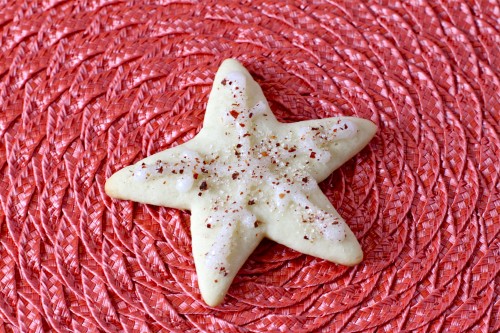 Two more super right things that made these cookies out of the ordinary good?  First, using the smoked chili sugar I bought at a farmer's market in San Fran.  I have struggled to find  a good use for this sugar and I really liked how it transformed a sugar cookie.  And second, making a completely homemade spiced icing.  And I became especially thankful for these right things after tasting the oh so beautiful and easy to apply store-bought (red) icing that tasted like poison.  Homemade is for sure the way to go.
The spiced icing recipe will but up tomorrow, but in the meantime, take a listen to this gem of a Christmas song!