What a day!  Seven of us gathered at the SFC Farmer's Market at Republic Square this morning to begin Edible Austin's Urban Farm Bike Tour.  We began our adventure by hopping on the super scenic Town Lake Trail, which took us over to the East Side.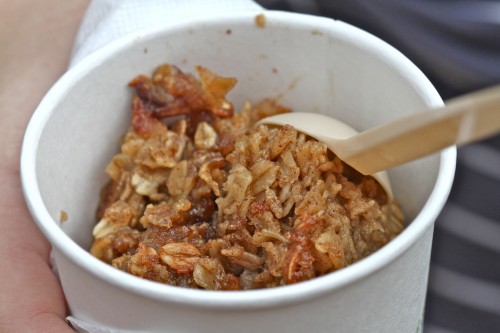 Our first stop was the Hope Farmer's Market where we were greeted with piping hot baked oatmeal.  None of us had eaten breakfast, so this oatmeal totally hit the spot.  We chatted, put together a game plan, and were quickly on our way.
Next we headed to our first farm of the day, the Hope Community Farm.
In addition to picking up some snacks and coffee, we were able to see the community farm in action.
By this point, Lauren, Anna, and I decided that were had no intention of being as ambitious as the rest of our group and opted to be the ladies of leisurely riding.  We let the rest of our group ride ahead as we peddled close enough together that we could continue the conversation between stops.
From there, we made our way to Boggy Creek Farm
Boggy Creek Farm was completely beautiful and, in my opinion, had the best food overall.
Butternut squash panna cotta with a perfectly placed fall-fallen leaf.
And a spicy black bean empanada.
And then we were off to HausBar Farm, where kale was a plenty.
HausBar also had a ton of animals: chickens, baby bunnies, donkeys.  It was random and adorable.
Our first bite at HausBar was shitake, bison, and barley soup.  And I have to tell ya, I had a tough time stomaching meat while looking at baby bunnies.  Looking at animals while eating animal is not. my. thing.
We shifted gears quickly by sampling the butternut squash ice cream, which was uniquely delicious and had a wonderful spice.
And then we headed to our last stop (everyone else continued to another farm), Springdale Farm.  I discovered this place when I attended the Austin Food Blogger Alliance Potluck where we shot the bulk of the photos that will be in the AFBA cookbook.  I was excited for Anna and Lauren to see the place that I had raved about weeks earlier.
After all of that touring, we were pooped.  Thankfully my office-basket-turned-bike-basket was large enough to hold all of my belongings so I could dump my stuff in there and head home to Yellow Jacket Social Club and have Lauren's Matt scoop us up and take me back to my place.
Overall, this tour made for such a wonderful Saturday.  It's days like today, events like the farm tour, and friends like my peddling pals that make me so happy to call this place home!