Dinner tonight was unusually disorganized, but turned out surprisingly spectacular.  I cancelled our reservation at Swift's Attic so we could walk over to the newly opened Clark's Oyster Bar, only to find out that they were completely booked for the night.  No biggs (except for I felt like it was biggs at the moment), we'd just head somewhere else.  After a bit of calling around to see who could fit us in, we landed at Olivia.
Olivia has been on my list for quite some time, so really the only setback was a seven minute drive.  My mom and I both had our stomachs set on oysters, so we ordered a couple and the roasted turnip soup to start while we browsed the menu.
I first ordered the branzino and, thankfully, our waitress warned us that it was a whole fish, head attached, and we'd have to pick around bones.  Ehhh…  No thanks.  So we took a few more minutes and went with the beet salad, beef carpaccio, and mussels.
The beef carpaccio was hands down the best thing of the night.  Flash fried capers, finely sliced shallots, arugula, and parmesan.  Ho-ly cow.   The mussels were also innovative and delish.  I've had mussels with chorizo before, but not with Brooklyn lager broth.  The smoky toast and Brooklyn broth were a cozy combination.  The beet salad was adorable and also very tasty, but I wish there would have been more beet balls.  Or more cheese balls.  Either ball, I would have taken more.  The oysters were oysters, I loved them cause they were oysters.  And the roasted turnip soup was a bit salty for my taste, but I totally dug the calamari topper.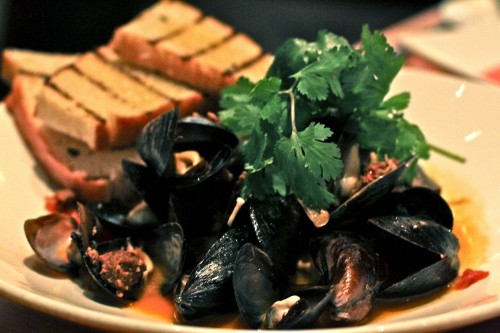 And then, because I'm a compulsive checker-in-er, my friend Skylar texted me that she was across the street having a glass of wine and that my mom and I should stop by and say hey, so we did just that.  Somehow my planned night that became unplanned quickly became planned again, and I was oh so thankful for that!