After a loooong day of traveling from Austin to Tacoma, my co-worker and I woke up craving a fresh breakfast.  I wanted a big bowl of fruit and a big cup of joe and Holly was on the same page.  I did a little Yelp research and found a vegan coffee shop about two miles from our hotel.  We hailed a cab.  He dropped us off a few blocks away from our destination (why?  I don't know.).  I pulled up the Yelp app to get directions and…  Saw "closed today".  What?
It would have been a total fail if Sarah hadn't just sent me a list of Tacoma to-do's.  First on the list was Southern Kitchen, which happened to only be a few blocks away.  When I saw that it was attached to a muffler shop, I knew it would either be a huge hit or huge(r) miss.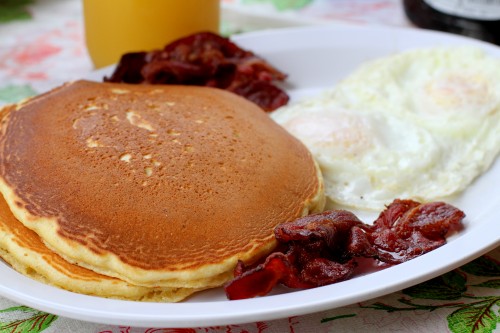 We sat ourselves, ordered two cups of black coffee, and looked over the menu.  The first thing Holly noticed was that Southern Kitchen had been featured on Diners, Drive-Ins and Dives.  This place was going to be a huge hit indeed.  And even though the corncakes (cornbread pancakes), eggs, and breakfast meats were far from what we were initially seeking, our meals totally hit the breakfast spot.
Side note: Corn waffles have officially been added to my baking list!
sdfasd