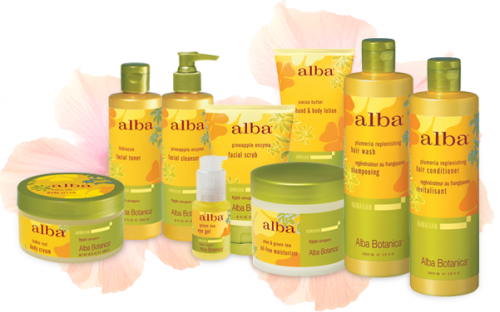 I've always been a fan of product.  I love trying new things and knowing new things and broadcasting new things.  But until recently, I paid little attention to how all of these things could have affected/be affecting my overall health.  And since it seems pretty silly to spend a whole lot of time focusing on what I put into my body but not onto my body, I figured it was about time to start paying attention.  And about time I share some importantly good finds!
A few Saturdays ago, I walked to Whole Foods on a face wash mission that was prompted by being completely out of my current, highly toxic regimen.  I have to admit that I was first drawn to Alba because of the packaging, but after checking the face wash, toner, and moisturizer toxicity ratings on the Environmental Working Group's website, I knew that these products weren't just a pretty face.  I've been using the three of these products together for about a month and they are amazing.  My skin is soft, blemish-free, and lacks that tight feeling that most other products leave behind.
Dr. Bronner's Pure Castile Soap has been a staple of mine since my first Emily DC visit in 2010.  It's made purely of Water, Saponified Organic Coconut, Organic Olive Oils, Organic Hemp Oil, Organic Jojoba Oil, Organic Peppermint Oil, Organic Mentha Arvensis, Citric Acid, and Vitamin E.  And the peppermint oil leaves you feeling super clean and tingly (think minty fresh breath, but body).
I am not totally sold on not using an antiperspirant, but I do think there are occasions when whether you sweat or not just doesn't matter.  So Tom's Long Lasting has been my go-to lately for lounging around the house or running errands.
And lastly, and least fun, tampons.  Using Seventh Generation's chlorine, fragrance, and dye free tampons is probably the easiest switch to make right away.  I can't begin to understand why chlorine, fragrance, or dye in a tampon is necessary, but I can be thankful that a tampon without these chemicals exists.
And if you'd like to receive a discount on your first iHerb order, use coupon code "RIS381" or click on the image above!