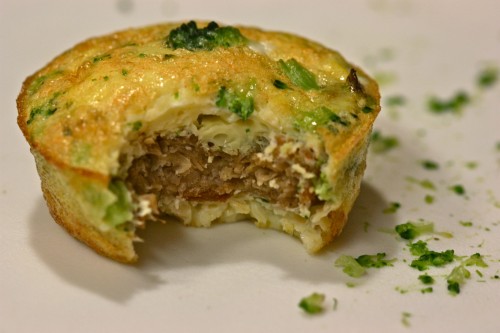 I am way boring when it comes to weekday breakfast.  Greek yogurt or flax oats have been my staple sit-at-my-desk-and-eat-while-I-work morning meal for entirely too long.  And since I've cut out Greek yogurt in an effort to get back to the land of non-dairy (gasp!), I had to come up with an oatmeal alternative, stat.
I dabbled in weekday eggs a few months ago, but baking breakfast (along with dinner) every other night and dirtying up a ton of Pyrex dishes is about as far from realistic as it gets.  But now that I finally have a muffin pan again, it dawned on me that weekday eggs can be a thing.  An awesome, un-boring, AM veggie kind of thing.
FoodFash Weekday Eggs (yields 4 servings)
14 ounces of veggie sausage (or 1 lb of turkey sausage)
6 eggs
1 cup of broccoli floretts, chopped (or any green veggie)
hot sauce to taste
Preheat oven to 400 degrees.  Slice sausage into 12 equal parts and smoosh a piece into each muffin hole.  Bake until sausage is cooked all the way through (about 10 minutes).  Remove sausage from oven and set aside.  In a medium sized bowl, beat eggs.  Add veggies and hot sauce, noting that salt is unnecessary due to the saltiness of the sausage.  Spoon about 2 tablespoon of eggs over each piece of sausage.  Place back in oven and bake for 15 minutes or until eggs are cooked all the way through.  Put three frittatas to a sandwich bag and store in the refrigerator.  Reheat for 30-45 seconds in your office micro and enjoy!
If you're looking for a way to make your co-workers and Instagram followers drool in a jealous stupor, eating these bad boys for breakfast will surely get you there.  And a bonus?  I found myself much more energized during my lunch-hour spin class.  I can see myself making these weekly, subbing with other greens and "meats" to keep it interesting.
What veggie/meat/non-meat combo would be your favorite?