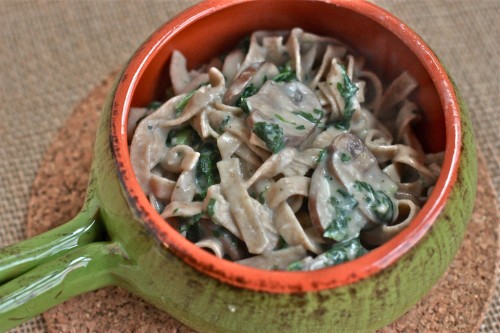 Finding a cream of mushroom soup with a non-sketchy ingredient list is darn near impossible, so I took it upon myself to go the homemade route.  I'm also back on the dairy-free kick.  Coconut milk will be this recipe's non-sketchy, non-dairy hero.
I picked up a new fettuccine while at Central Market.  I'm a sucker for packaging that makes the noodles appear as if they may be more fresh than your typical boxed brand.  But with a mere three minute cooking time, that could totally be legitimate.
FoodFash Vegan Cremini & Kale Pasta (yields 4 servings)
1 tablespoon non-dairy butter (Earth Balance)
10 ounces of cremini mushrooms, rinsed and sliced
3/4 teaspoon garlic salt
3 tablespoons non-dairy butter (Earth Balance)
3 tablespoons flour
2 cups unsweetened coconut milk
1 to 1-1/2 teaspoons garlic salt
1/4 to 1/2 teaspoon white pepper
1/2 cup of frozen chopped kale
4 ounces of fettuccine noodles, cooked
In a medium saucepan, melt butter over medium heat and add sliced mushrooms.  Sprinkle with 3/4 teaspoon garlic salt and let cook until mushrooms are wilted, stirring occasionally.  In a medium-sized pot, melt 3 tablespoons of butter and whisk in 3 tablespoons of flour to make a rue.  When the rue is golden in color and thick, gradually add the coconut milk.  Whisk continuously until the sauce is thickened.  Pour the cream sauce and frozen kale into the saucepan with the mushrooms.  Add garlic salt and pepper and stir until all of the ingredients are mixed.  Add finished sauce to noodles, mix well, and serve.
At around 450 calories per serving, this comfort meal is wayyy lower in calories than your typical creamy carb dish.  The mushrooms and kale add umami and texture to the fettuccine.  And the coconut milk thickened up just as nice as milk or cream, making it my new, non-dairy go-to for baking.  I see coconut milk gravy and coconut milk pastry filling in my future!