I'm not completely evil with my pies, you know.  I recognize how dangerous dropping off a boat load of sweets to a two-person household could be.  So today, I split a traditional pie recipe into two cobbler-esque dishes and caused a semi-food-coma at two separate homes.  That's what you call spreading the evil love.
The white peach rhubarb pie that I made for my last dinner party was such a hit that I figured it was the perfect personal pie to deliver to Clay for his 30th birthday.  Then I moseyed on down Lamar to drop the second personal pie off to Matt and Max, who were busy painting an Olympic yard sign.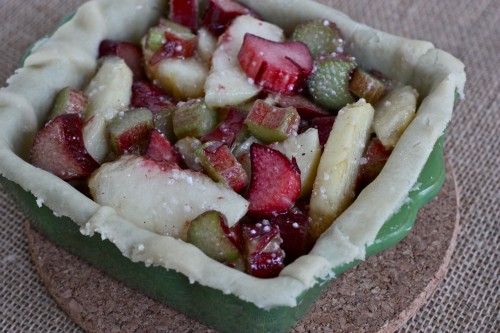 FoodFash White Peach Rhubarb Pie (yields 1, 9″ pie or 2 small cobblers)
2 pastry shells
1 lb of rhubarb, chopped into 1/2″ slices
3 white peaches, skinned and sliced
1-1/2 cups sugar
3 tablespoons quick-cooking tapioca
1/4 teaspoon salt
1/4 teaspoon nutmeg
Preheat oven to 400 degrees.  Mix sugar, tapioca, salt and nutmeg in a small bowl.  Place sliced fruit in a large bowl and top with sugar mixture.  Stir until all of the fruit is coated with sugar.  Let stand for 30 minutes.  Line your pie plate(s) with one of the pastry shells, fill to the top with fruit mixture, and use the second pastry shell to prepare your lattice top.  Bake for 35-45 minutes or until lattice is golden brown.
Not only am I obsessed with this pie, but I think I now have half of Austin obsessed with it as well.  I'm also digging the adorable ceramic dishes that I swooped up from Homegoods today.  Is it just me, or does fabulous presentation make a pie taste that much sweeter?