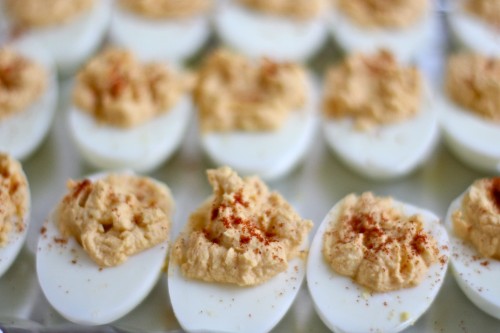 In addition to tart and tasty lemon meringue pie, I also brought spicy sriracha deviled eggs to the lake house on Sunday.  Deviled eggs and pie?  Though not exactly coordinated in any way, shape, or form…  Nobody seemed to mind.
I had a huge fear that this batch of freshly bought eggs was going to give me trouble when it came to peeling, but they didn't give me much trouble at all.  I added eggs, a splash of white vinegar, and a pinch of salt to a big ol' pot of water, brought to a boil over high heat, then covered and reduced heat to low for 12 minutes.
FoodFash Sriracha Deviled Eggs
1 dozen boiled eggs, cooled
4 tablespoons mayonaise
2 tablespoons white vinegar
sriracha to taste
salt to taste
smoked paprika for garnish
Slice eggs in half and dump yolks into a medium-sized bowl.  Add mayo and vinegar and then whip until smooth.  Add sriracha to taste.  I ended up doing two rounds of squiggles (technical term), which added flavor without being too, too spicy.  Add salt to taste.  Stuff each egg with yolk filling and then sprinkle with smoked paprika.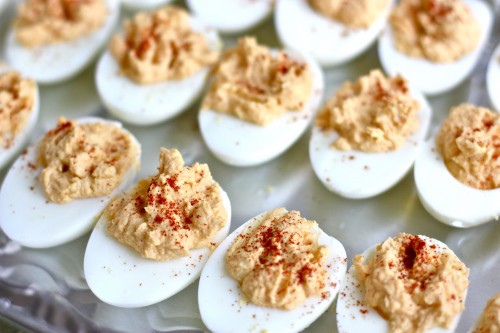 I've come to the conclusion that social gatherings and deviled eggs should go hand in hand.  They are so super easy, so super delicious, and they make people crazy-like excited!