You know those days where you're having so much fun that you feel like time stops, laughing continues, and you have no thoughts other than what's going on in the moment?  I have always described that feelings as movie fun.  And I did not expect movie fun this Easter.
In fact, I woke up with my first serious pangs of homesickness on Sunday morning.  It started creeping up on Friday and by Sunday morning, I was a sad kid.  And it wasn't so much that I want to be anywhere but Austin, I just wanted everyone I love to be here with me.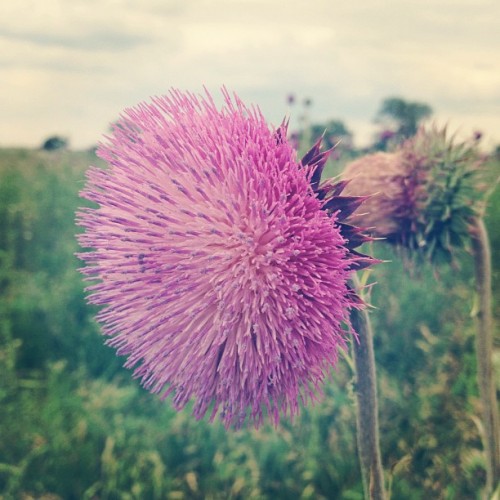 This was Jenny's first Easter without family so she knew the feeling.  We went to Easter service, unsure of what the day had in store for us.  But we left Easter service on a mission to meet Matt for coffee.  For Matt is a life-lover and there's no such thing as a dull day in his world.
Next thing we knew, we were four-deep in Matt's explorer and headed West.  Destination?  Wherever the largest patches of wildflowers led us.
We parked next to a saloon in Willow City, Texas (yeah that's right, population 75), and whipped out the football.
It wasn't long before I frolicked over to a field and made a wildflower tiara.  In my world, crafting ability > athletic ability.
From there, we found a secluded spot where the boys taught Jenny and me how to shoot.  Neither of us had ever fired a gun before, so it was an… interesting experience.  Jenny was a natural and made a shot!  I, umm, had a difficult time holding the weight of the gun.
It wasn't long before we realized we were on private property and told to scat.  Where to next?  Jumping into the Pedernales River!  By this time, my phone was dead (because my phone is always dead), so no photo proof of river adventure.  But due to shallow, mucky, weed bottomed water, it was a short-lived trip anyway.
We headed back to Matt's place to grill up some Easter dinner.  Jenny was in charge of the lamb and I prepped veggies for grilling and tzatziki for dipping.  By the time dinner was over, we realized we'd been non-stop fun-having for 12 hours, 12 movie fun hours.
I rolled into bed feeling the exact opposite as I had felt when I rolled out this morning and that is something to be thankful for!