It's tough to think about recipes after gorging yourself on Christmas goodies.  I woke up this morning feeling full and fluffy.  Too fluffy for restaurant breakfast and not full enough for a green smoothie.
I cut the crusts off of two pieces of sprouted sourdough bread and hunted around my fridge for stuffing ingredients.
Why hello there, peanut butter and jelly!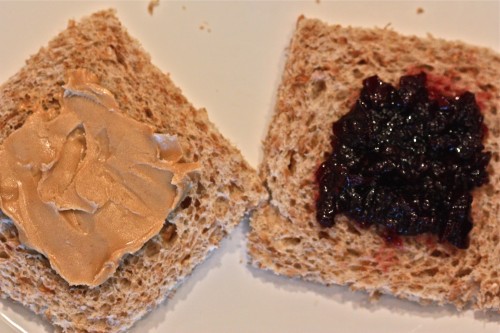 While a pan was warming up over medium heat, I dabbed about a tablespoon of each onto each piece of bread, slapped the two together, using a fork to seal the edges for a PB&J ravioli.  I set the little ravioli into an egg/water mixture (I usually use almond milk) until both sides had soaked up most of the mix.  I cooked each side until both were golden brown.
Even though this is a little more caloric than my normal breakfasts, it was definitely better than anything that would have happened had I met up with friends for my first meal of the day.  The warm and gooey peanut butter and jelly inside went so well with the crisp and dense french toast outside that neither butter nor syrup was needed.